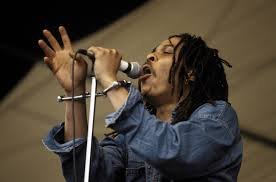 Majek Fashek – Send Down The Rain audio music Download
Nigerian international reggae star, Majekodunmi Fashek, popularly known as Majek Fashek, born in Benin City, Nigeria to an Edo mother and a Yoruba father. Fashek first gained national fame on a television show in the early 1980s as a member of Benin-based reggae group Jastix. His bandmates included Ras Kimono and Amos McRoy Gregg. They toured for many years with fellow reggae group The Mandators. In 1988, shortly after Jastix disbanded, he began a solo career and quickly became the best-known reggae artist in Nigeria. His song Send Down The Rain was a hit, and he won six US-based PMAN Music Awards.
Listen to Send Down The Rain by Majek Fashek below!!!