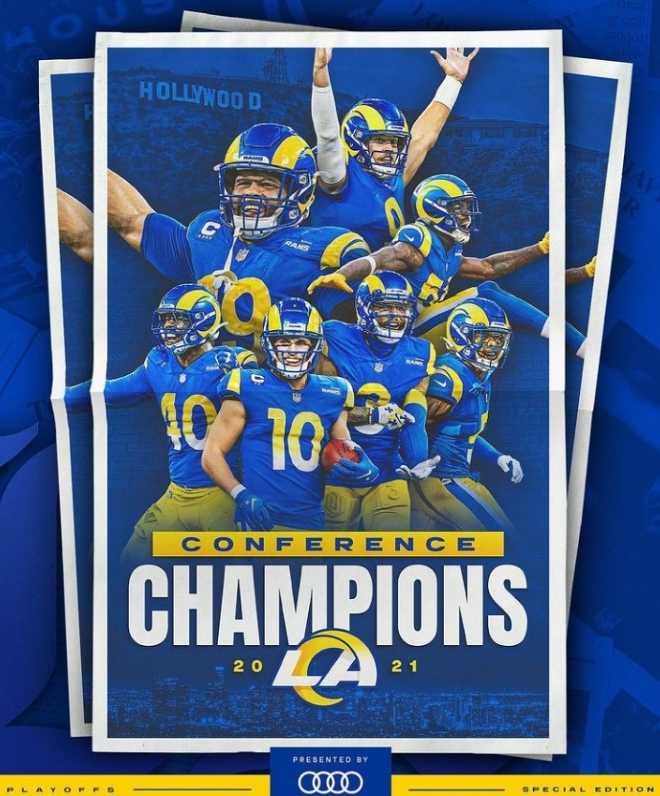 Photo Credit: Rams Official IG.
NFL champs, The Los Angeles Rams Strike Gold Advances to Super Bowl, The Los Angeles Rams will be meeting the Cincinnati Bengals in Super Bowl 56 after both sides produced fantastic comebacks to win their Conference Championships.
The Rams' triumph simply means a Super Bowl will feature a home team for the second successive year after the Tampa Bay Buccaneers beat the Chiefs at Raymond James Stadium in 2021.
The Los Angeles Rams also made history by becoming the first team ever to overturn a double-digit fourth-quarter deficit in a Championship game to cap another thrilling play-off weekend, following a divisional round that saw all four games decided by last-second field goals or overtime.
Earlier, defending AFC champions Kansas City were heavy favourites to book a third successive Super Bowl appearance and appeared to be cruising to victory when they opened up a 18-point lead over Cincinnati.
But the Bengals made a crucial stop just before half-time to limit their deficit, which quarterback Joe Burrow clawed back during the second half as his opposite number Patrick Mahomes began to go awry.
Before this season, Cincinnati – who were the worst team in the NFL two years ago with a 2-14 record – had not won a play-off game in 31 years but they have now won three in quick succession.